Personalised Macarons for Weddings
Wedding macarons – your day, YOUR way
If you're on the trail of bespoke, limited edition wedding macarons or macarons wedding favours for your upcoming big day, we've got you. 
At Giselle Richardson, we love working side-by-side with our brides and grooms (and wedding planners and caterers) to create custom macarons for weddings.
Whether it's a spectacular do or an intimate affair, a whimsical winter wedding in a warehouse, a summer ceremony in a wildflower meadow or
traditional nuptials in a stately home, we love catering for them all.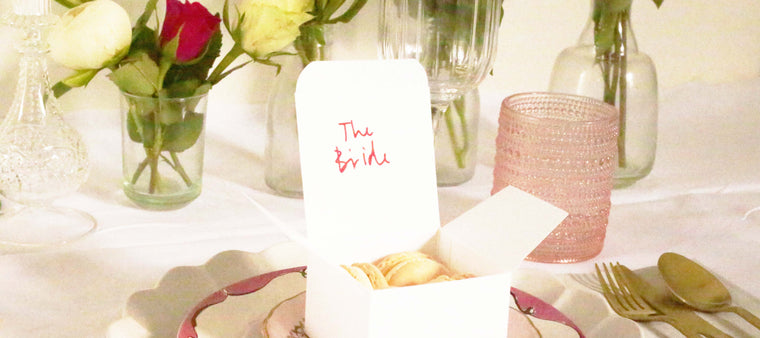 Personalised wedding macarons - the Giselle Richardson difference
Here at Giselle Richardson, personalisation means so much more than matching your colour scheme or adding names to your macarons wedding favours. Here's where you get something a little bit different. Well, quite a lot different.
For us, it's all about working closely with our clients to truly refine the personalisation. We know how important it is for everything to be perfect for your most special day. It's why we invest time working out which ingredients currently in season will work well with your bespoke wedding macarons.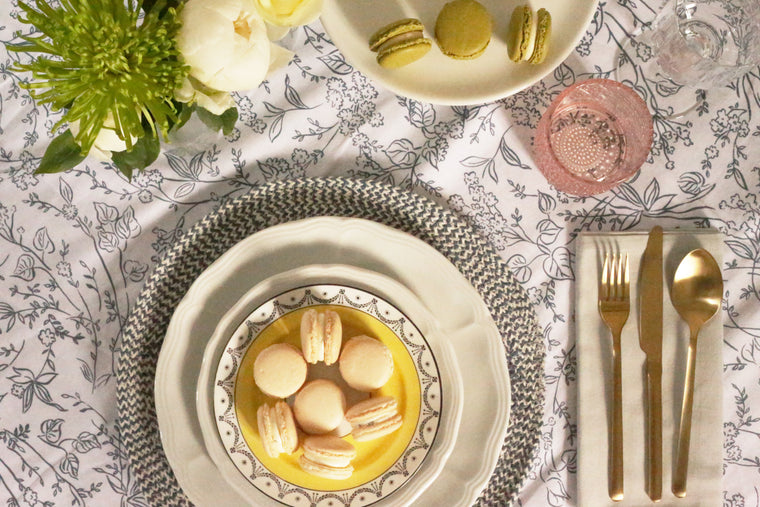 Using the UK's seasonal produce has always been important to us. It has such an influence on flavour, because we're using fruit, veg and
herbs at their very best. Plus it means we rarely have to cast our nets wider than our home shores to get our hands on fresh macaron ingredients, which is good news when it comes to keeping our carbon footprint in hand.
We'll also go as far as making sure the flavours used in your bespoke wedding macarons will complement rather than clash with your planned catering choices, your venue, and the style of your wedding.
How it works
You tell us the date of your wedding, and we'll offer advice on what's available at the time in terms of seasonal ingredients.
You can take colour and flavour inspiration from our Flavours Menu (check out the current Flavours of the Month or scroll down to see
what we might be making at other times of the year), or if there's nothing there that takes your fancy, we can work with you to create a complete one-off. Your own unique macarons, just for you and your special day.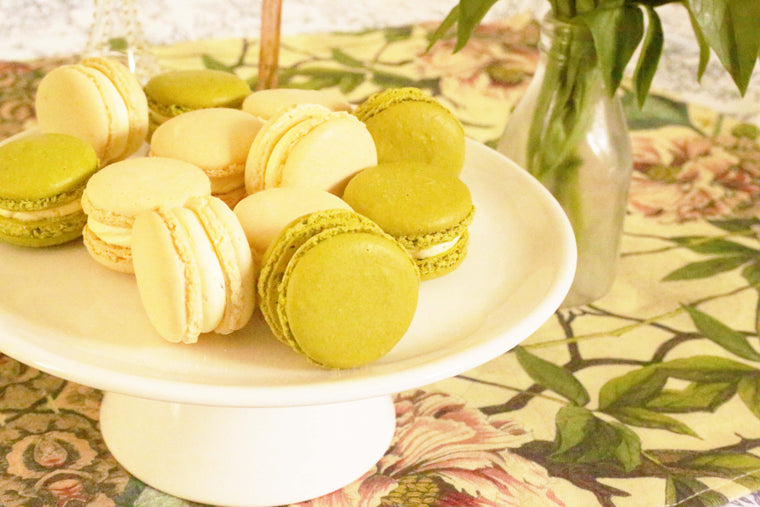 Simple images, names, initials, monograms, messages or dates can be added to your wedding macarons or macaron wedding favours, and we can present them pretty much any way you like to make them - truly bespoke. From mini-boxes to great big boxes, from organza bags to ribbons, raffia and bows, with personalised labels and notes, flowers, glitter… the list goes on, and the choice is well and truly yours. Our only caveat is that whatever you choose has to be made from sustainable materials and be biodegradable and recyclable.
We can come along to your venue (unless it requires trains or planes, although depending on the location we could be persuaded…) and set
up your wedding macarons with flowers or your own décor, or you can pick up everything from us. We're very flexible and, as we've said, it's something we really love to do.
Please do get in touch to have a chat about what you'd like.
A Note on Macaron Towers
At Giselle Richardson, we avoid anything that goes against our value of being as sustainable a business as possible. Whilst traditional macaron towers look fantastic, the two ways one can display macaron towers either use non-recyclable plastic or polystyrene and, for one-off occasions, we don't think the wastage is worth it. We are working on an alternative which should be ready soon, and in the meantime we would be delighted to supply the macarons for you to use in your own tower should you wish.
What our customers say...