About Giselle Richardson
Giselle never had any intention of starting a food business and made her first macaron when she couldn't think of anything else to give a friend for a significant birthday in the early 2010s.
She has had no training, and chefs' and clients' response to the answer of the question 'where did you train?' has often been surprise, since it was the Royal College of Art rather than a food related establishment. Giselle credits her interest in food and flavour to being incredibly spoilt by her very generous family, and being able to eat fantastic dishes from all around the world throughout her life.

It's the influence of great food and flavour that lies at the heart of everything we produce. Whilst macarons are generally made in several traditional flavours, we prefer to exercise our creative juices and have restricted ourselves to predominantly seasonal flavours and themes since our foundation.

Fruit that's in season has so much more flavour than something that's come from the other side of the world and was picked days before it was ripe. Our fillings never contain artificial flavourings, because who wants to eat something created in a lab when you can use something picked from a tree?
And yes, we live on islands that don't have the best conditions for growing all the different kinds of fruit we're so used to having access to, but this country has an incredibly rich food heritage. So even if there's not much growing in November or March, there's always a route we can go down to fill our eight monthly flavours.

Over the years, our business has grown from a single market stall in Marylebone Village every other Saturday to several stalls around London, a thriving online presence and being on the end of a macaron hotline to some of the world's most prestigious companies.
There are also more of us in the kitchen and trading at markets. Whilst our techniques have become a bit more streamlined, we're still using the same Kitchenaid stand mixer from 2008 (it's just better than everything else!) and we still pipe and mix everything by hand because frankly, quality IS better than quantity.

By the way, making macarons is notoriously tricky, so we recommend not trying and just buying from us instead.
Our Values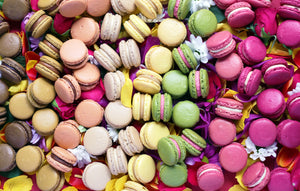 Sustainability
Sustainability has been one of our key pillars since our foundation. The majority of our ingredients grow in this country, all our packaging is made from biodegradable and recycled materials, and we do our best to buy products that aren't packaged in single-use plastics as well as using none ourselves. We don't have our own transportation and we use Royal Mail to send our parcels as it has the lowest carbon footprint of all the delivery services.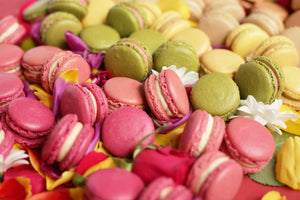 Unconventionality
A macaron is traditional, but our approach to them isn't. We love a classic, but when so many ingredients are available, why wouldn't you amp up the experience? And our macarons are FULL of filling, no dabs of buttercream for us. If we create a flavour, we want our customers to taste it. As for appearance? A lot of macarons look like they've been bleached by the sun. Our macarons are vibrant and eye-catching.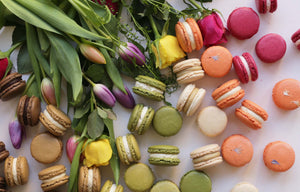 Tenacity
We've never rested on our laurels and refuse to believe that we can't improve on everything that we do. We're determined to create the best products, whilst ensuring that we use the most ethical and sympathetic
practices. We're proud to challenge structures and norms to create a better business for ourselves and our customers.
What our customers say...