Macarons for Parties & Events
Party macarons for every imaginable celebration
If you're planning for a significant event and are in pursuit of luxury bespoke macarons for a party, we've got you covered.
At Giselle Richardson, we love working with party planners (and professional event organisers and caterers) to create handmade custom macarons for parties. 
From cosy soirees to huge family shindigs, from happy birthdays and congrats to garden parties and house warmings, we thoroughly
enjoy catering for them all. So whether you're looking for colour or flavour-themed macarons, custom macaron party favours or party trays, or you have other ideas in mind, we're ready to tailor you something special.
Personalised macarons for parties - the Giselle Richardson difference
Here at Giselle Richardson, personalisation goes way beyond matching your celebration colour scheme or adding names to your macarons. For a party planner, we like to do a lot more than that, because we know how hard you're working to make everything perfect and memorable.
Whatever the celebration, it's a special day. So that's why we put a huge amount of thought and time into working out which of the current season's ingredients will work perfectly with your bespoke party macarons.
Using Britain's finest in-season produce has always been one of our biggest driving forces. It has a massive influence on flavour, because we're using fruit, veg and herbs at their seasonal best. Plus it means we rarely have to venture further than our own UK shores to source the freshest macaron ingredients. Which is good news for keeping our carbon footprint in check.
When creating macarons for parties, we always make sure the flavours we use complement rather than clash with your catering, and that they're a perfect fit for your venue and event style too.
We'll also go as far as making sure the flavours used in your personalised corporate macarons will complement rather than clash with the catering and style of your business event, and that they'll make a perfect fit with your brand story and audience.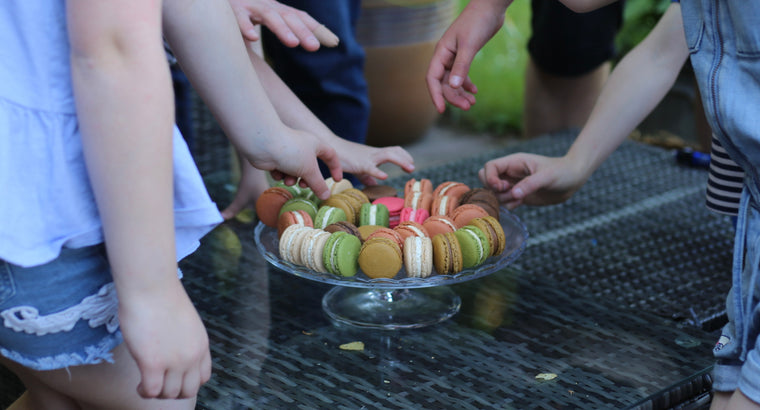 How it works
You tell us the date of your private party or event, and we'll offer advice on what's available at the time in terms of seasonal ingredients.
You can take colour and flavour inspiration from our Flavours Menu (have a scroll through the current Flavours of the Month or navigate down to see what we might be making at other times of the year), and we can suggest colours to match them.
Or if there's nothing there that catches your eye, we can work with you to create a complete one-off. Your own unique party macarons, just for your special event.

Simple images, names, initials, monograms, messages or dates can be added to macarons for parties or macaron favours, and we can present them nigh-on any way you like to make them truly bespoke. Big boxes or little boxes, organza bags or trays, ribbons, raffia or bows, personalised labels and notes, flowers, glitter… just tell us what you'd like, and we'll see to it. Our only condition is that whatever you choose is from a sustainable source and can be recycled or composted.
We can come along to your venue (unless it requires trains or planes, although depending on the location we could be persuaded…) and set up your party macarons, or you can collect everything from us. We love what we do, and being flexible is part of the service.

Please do get in touch to have a chat about what you'd like.
A Note on Macaron Towers
At Giselle Richardson, we avoid anything that goes against our value of being as sustainable a business as possible. Whilst traditional macaron towers look fantastic, the two ways one can display macaron towers either use non-recyclable plastic or polystyrene and, for one-off occasions, we don't think the wastage is worth it. We are working on an alternative which should be ready soon, and in the meantime we would be delighted to supply the macarons for you to use in your own tower should you wish.
You might also like…
Getting married or organising a wedding? Have a look at our personalised macarons for weddings.
Organising a corporate event or looking for customised corporate gifts? Check out our bespoke macarons for your business.
What our customers say...