Limited edition macarons for original flavour
At Giselle Richardson, we've been making luxury, seasonal, limited edition macarons by hand in the capital since 2012 with the aim of producing the best macarons in London and the wider UK.

Each month, we offer a brand new choice of eight macarons, some of which we've made for years, like Chocolate Caramel Sea Salt. Others we've come up with about six days before we launch them, like Rhubarb Strawberry Tarragon.

For some flavours we use seasonal fruit, veg and herbs. For others, we're motivated by particular trends and events. Always on the hunt for as-yet undiscovered ingredients and original flavour combinations, we take inspiration from wherever we can get it.

If you've recently discovered any previously unknown fruits growing in the UK in winter, please do tell us where, when and what they taste like. There's got to be something else out there… the next best macarons London has ever tasted might be just around the corner!

Like our forebears who were importing ingredients like lemons as early as the 15th century or coffee in the 17th (which is why they're bedrocks of our culture), we do have to use some imported ingredients, basically because some are not so keen on the UK weather. But our macarons are largely made from great British produce. It's very important to us to keep our carbon footprint low, and to make the most of what's on our doorstep.

Macarons make a wonderful gift for birthdays and anniversaries, to say thank you or congratulations, or to tell someone you love them or you're thinking of them.
Choose a gift box of luxury macarons from our selections based around our eight flavours that change each month, or talk to us about creating bespoke macarons for your wedding or corporate event. From logo-branded macarons to personalised wedding favours, we'll be delighted to create something just for you.

All of our products are made in a kitchen where there is no gluten, so are suitable for Coeliacs. We also use vegetarian colourings.
You can buy our macarons online with 24-hour tracked delivery across most of the UK, visit one of our market stalls across the capital, or order online for collection from our macaron shop in London. Don't be put off by the way it looks on the outside… it's what's on the inside that counts!

The Giselle Richardson Difference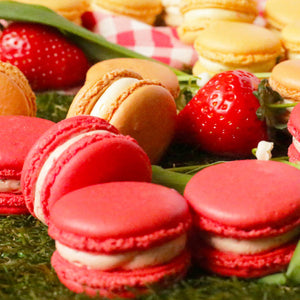 Flavour
Our macarons are made with seasonal fruit, veg, nuts and herbs so that we get the most flavour out of them. We want the macaron to taste of the flavour it says it does, no meh sugar taste for us. We don't use artificial flavours, we use ingredients grown on a tree or a plant, not in a lab.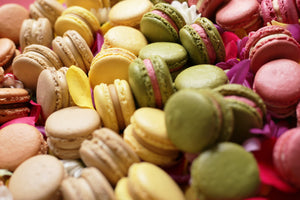 Limited Edition
Because they're seasonal, our macarons are limited edition and change each month. Once they're gone they're gone, but there's always something new for you to try.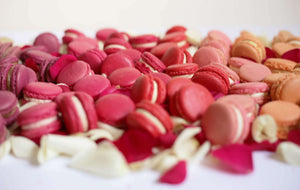 Handmade
We've always made our macarons by hand (well mostly, hello ovens!). And even as we've grown, we've tried fancy machinery to produce them and they're just not the same. We hand pipe and hand mix all our macarons because they're better that way.
What our customers say...