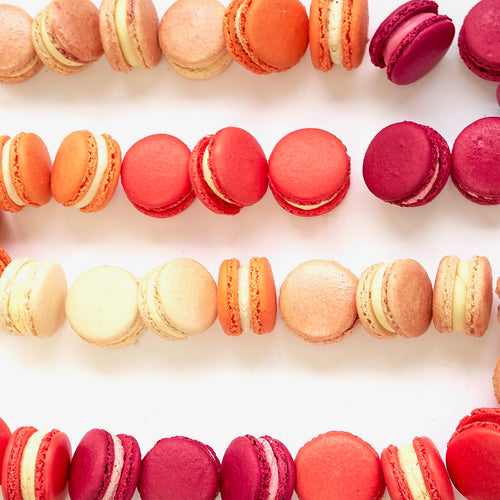 Normally at this time of the year we'd be preparing for bumper days of sales at our stall at Kings Cross Real Food Market but this Valentine's is going to be one like no other. Our colleagues in restaurants and hospitality venues can't open their doors to customers like they normally do and I'm grateful that we'll still be able to provide our customers with macarons for their loved ones.
I'm not really one to make a lot of little rituals like these but the thing I really do like about Valentine's is the opportunities to use particular colours in our offerings for the month! Oranges and pinks (and reds) are my favourite colours to combine and I really enjoyed shooting pics to accompany our Valentine's collection this year, examples of which are above and on the home page. As well as that, our usual seasonal rules go slightly out of the window in favour of using fruits, veg and chocolate that have an orange, pink or red hue.
This year I've chosen to use ingredients like watermelon, lychee, blood orange and pink lady apples, and I've also chosen to use Ruby Chocolate again. This is chocolate made from varieties of cocoa beans that have a natural pink colouring and has a slightly tart, almost berry flavour to it. For those of you who have been customers for a while, you might have noticed that I favour more tart and tangy flavours for macarons so this really fits into that category unlike its brown cousins. 
I recommend getting your orders in for Valentine's sooner rather than later, we're even offering Sunday delivery before noon for £10 so your macarons arrive in time for an early or late breakfast in bed! No one ever said a macaron was just for tea!