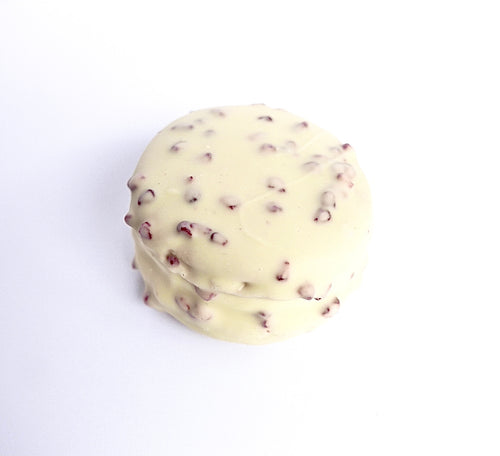 Seasonal Macaron Chocolate Biscuits
If you hadn't already spotted it in our store, we have a seasonal Macaron Wagon Wheel available to buy online or from one of our stalls. It's the oldie but goodie combination of White Chocolate and Raspberry, using freeze dried raspberries so you get a real burst of flavour when you crunch them! Not gonna lie, it's pretty sweet, but not wince sweet, and the sharp raspberry really cuts through to make each bite totally delicious.
You can buy them individually, but we've also added the option for you to purchase 4 in a box with a discount, and you can either pick which of our current 5 flavours you'd like or leave it to us to choose for you. 
Some of you may also have spotted on our instagram feed that we're doing a soft launch of Macaron Jaffa Cakes which are currently available on our market stalls in London. We take a large macaron shell, top it with a fresh and zesty handmade veggie orange 'gelly' and cover it with rich dark chocolate. We've noticed that customers buy one, and turn up again about half an hour later in search of another! We're just working out how we can package them so they arrive undamaged to our online customers, so watch this space to see when you can get your hands on them. We recommend several per order otherwise the waiting could be painful!