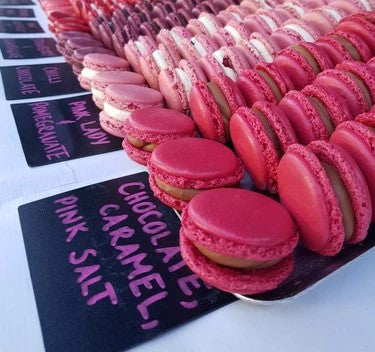 Despite the new restrictions, it looks like markets selling food can continue – in fact, given that lack of ventilation isn't a problem in outdoor markets (!), what safer way is there to buy?
We've sold our macarons from market stalls ever since we started up seven years ago, and markets are what we like to do.  As well as being a great way to sell our macarons, markets let us meet our customers, find out their likes and dislikes and see what we can do to improve what we do.
So it was a real blow when the lockdown in March shut us down.
In September, we were at last able to start up again.  It hasn't been what it was before – in particular, our regular pitch at Kings Cross Real Food, right in front of Kings Cross station, suffered from the much reduced flow of travellers, and in the latest lockdown, it's closed again until (we hope!) 2nd December.    
But the Real Food people have asked us to go to their Canopy Market at West Handyside nearby, so we'll be there this Friday (13th) and also Saturday and Sunday (14th-15th).
And our weekend markets have been pretty good.  We've been at Duke of York Square in Chelsea on Saturdays for the last few years, and it's been great to see so many customers again.  We're also at Primrose Hill on Saturdays  and we've been excited on Sundays to be regularly at the new London Farmers Market at High Street Ken.
Many markets have had to reduce the number of stalls and control the number of visitors, so we're a bit limited in where we can attend, but we're hoping to get around more and in the meantime it will be great to see you if you can make it.