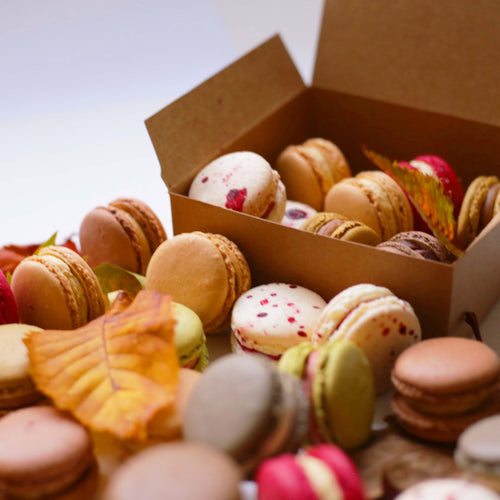 I went leaf hunting yesterday. Although we're slap bag in
C. London
we're surrounded by little parks with a surfeit of trees and there are lots of opportunities to jump in and out of leaf piles. There are lots of reasons why people love Autumn, and I disagree with most of them because I like being warm, but I do love the colour and crunch of an Autumn leaf, and I can overlook the fact that it's getting cooler because it makes trading at markets much easier (far less melting).
The colours of those Autumn leaves have had a big influence on our macaron flavours and colours this month - we pretty much colour matched them to the trees we can see through our front window. And we've got some Autumnal favourites amongst our flavours, with
pumpkins
,
cobnuts
,
quinces
and even
horseradish
making up our 8 options this month. We're really in love with this collection  and we hope you will be too. 
Our October flavours are: 
Bloody blackberry elderberry elderflower
Caramel apple quince
Coffee ginger
Pear beetroot horseradish honey
Chocolate
Chocolate Caramel Sea Salt
White Chocolate Cobnut Praline