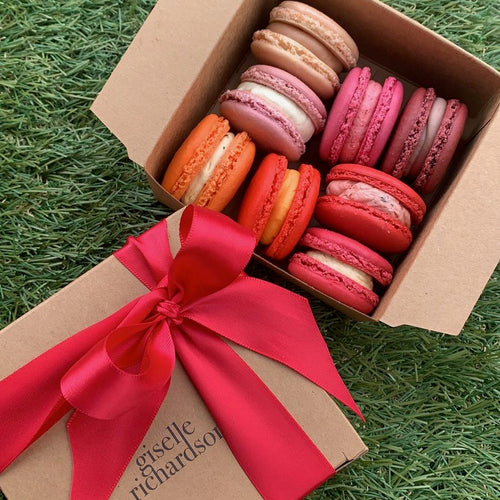 Most people assume that the early months of the year are pretty crap for food businesses but actually having Valentines in February and Mother's Day in March make it a really significant time for us. It's a time that always leaves me in a bit of a quandary in determining what flavours to offer you, our ravenous customer. 
It's always been important to me, and always will be, that we honour our ethos of choosing flavours based on what's in season in the moment. We're always asked why we don't have raspberry in March, for example, and my colleagues are amazing at keeping a smile on their face as if they've never had to explain why not before! But that can be tricky if I hold also hold true to the idea of honouring a festival or and occasion. That's why in February everything has been based on the shade of red for Valentine's, and why Mother's Day will be the overriding factor in the flavours I've chosen for March. Seasonality is everything, but supporting ourselves in these difficult times is even more important, and we need to honour our Mums. 
Now of course I am aware that Mother's Day is actually called Mothering Sunday and is after all an important event in the Christian calendar. And yes I am aware that it's been taken over by greetings cards companies and cynical people like me cashing in. But the majority of my good friends are mothers and they've spent the past year being pulled this way and that - coping with working, being the teacher, being the housekeeper, the chef, therapist and none of them has said it's been remotely easy! Frankly they should be getting that recognition every day, but this year they certainly deserve one day to be feted and admired. 
So the flavours that I've chosen for Mother's Day this year take the idea of giving your Mum a bunch of flowers, and that look just as beautiful, and are way more tasty! Flowers also signify the new, the fresh and the Spring, and it feels like it's just the right time for renewal. Oh and I've also added a little gin to the mix so that there's at least one flavour in the box for grown ups not for little ones...
So gift your Mother a bunch of macarons this Mother's Day, with all our love.
Hibiscus Ruby Chocolate
Lavender Lemon Curd
Rose Rhubarb
Jasmine Earl Grey
Gin Cucumber
Caramel Apple Pear
Chocolate
Chocolate Caramel Sea Salt