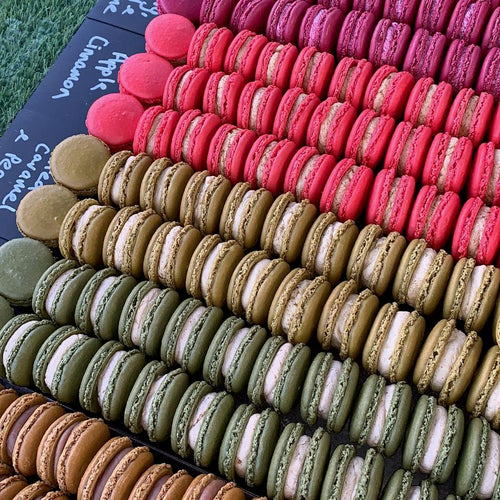 January lockdown market news
My hopes for 2021 have been rather shattered in the last 24 hours! We were hoping to continue our end-of-2020 momentum but sadly the landlords at 2 of our current markets have spoken and until further notice there will be no market at Duke of York Square or Canopy Kings Cross. 
You can still purchase from our stalls at Primrose Hill Food Market every Saturday and at London Farmers Market High St Ken on the 1st, 3rd and 5th Sunday of each month. 
Don't forget if you'd rather not leave the house you can have macarons delivered to your door. We'll be sending out the first deliveries of the year on Monday 11th and our new flavours are now up. 
You can also now purchase for pickup from our Clerkenwell kitchen from our shop during the week. Leave us a note in the box telling us when you'd like to pop by. Pick up hours are 11am-4pm.
And if you'd rather not come by but you need your fix and live nearby, we'll be back on Deliveroo from Monday 11th. 
I'm crossing everything that for all of our sakes this is the last time we're all locked down and that the winter will go quickly so our lives can resume once more. 
Stay safe everyone.