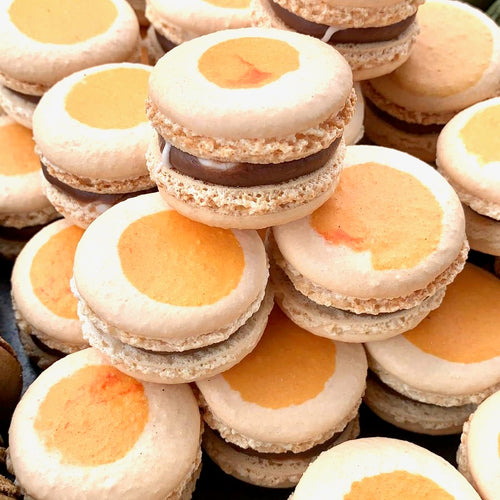 Eggstraordinary that Easter's already over
I was reading a social media post the other day where the person was musing on the fact that Easter chocolate always tastes better than chocolate at any other time. I couldn't disagree more. Most of the time we end up eating chocolate of fairly horrendous quality but because we eat it in such copious amounts it begins to lose its flavour anyway. 
And because of that, I say that at Easter, don't eat just chocolate, eat macarons filled with chocolate. But then I would wouldn't I?!
As has become a bit of a norm in the last couple of months, I've chosen to theme our macarons this April around the Easter celebration, and therefore my newest creation - a Creme Egg macaron - will be available all month. I very rarely eat a whole macaron these days because i would find it difficult to make it through the door to the kitchen, but I did try one of these the other day to check the flavour and the consistency, and I was delighted to find that that they're delicious, even if I do say so myself! 
Using chocolate as an overriding theme but taking into account our customers who love our fruity and floral flavours, there are 4 chocolate flavours along with the Creme Egg macaron this month. Our perennial favourites Chocolate, caramel and sea salt and Chocolate are joined by a nutty White Chocolate and Almond and Hazelnut Praline. White chocolate, caramel. nuts - what's not to love?!
This month we're also using the last of the forced rhubarb for the year paired with some gorgeous fresh Norfolk cresses, embracing Spring (even though it snowed today...) with Cucumber. elderflower and mint, eating pears with delicious soft set honey, and adding an extra zing to apple with some fresh ginger. 
I hope you love them all.