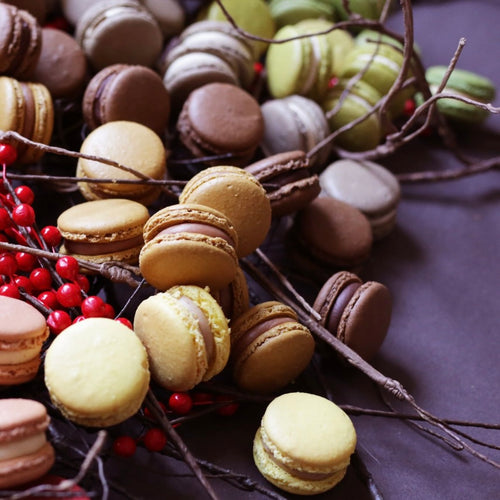 Despite what Mariah Carey might have to say about things, it is not quite Time. There is no need to entirely focus on something that is happening at the end of next month, why would we wish our lives away?! The leaves are still on the trees (not those trees), some of them haven't even changed colour yet; it doesn't feel all that cold. In short, let us have Autumn please!
To that end, may we humbly announce our November flavours for your delectation. It's been a very long time since we used medlars in our macarons - this is largely because the last time we did I happened to manning one of our stalls and a lady said EURGH very loudly having eaten a sample (I can't remember what it was mixed with). Whilst no one else agreed with her, it did make me a bit wary of using them again but I figure enough time has past and I think it's time these odd little fruits had some time to shine again! In case you didn't know, here's what they look like. One of our staff used to refer to them as looking like an 'angry tomato'. 
As well as delicious medlars it's also time for cranberries to make a return to our kitchen and their scent is making the kitchen smell amazing. They taste good too. 
And my favourite macaron of all - Earl Grey is also back for this month. I can't recommend it highly enough. 
Our November flavours are...
Chocolate Caramel Sea Salt
Earl Grey
Cranberry Orange Rosemary